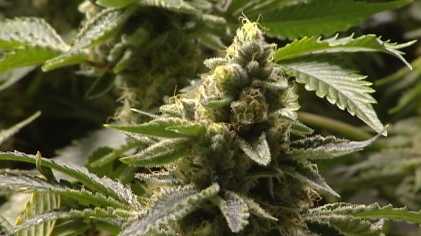 CINCINNATI —
Ohio's medical marijuana program will go into effect in about 10 months. But already there's a push to make all marijuana legal across the board.
Ohioans have heard this once before: A constitutional amendment to give voters a chance to approve marijuana use, both medical and recreational.
But this time, the man behind it is promising to fix the issue that had even pot supporters fired up when the last amendment came up for a vote.
Jimmy Gould of Green Light Acquisitions, LLC, will propose making marijuana legal for all adults in Ohio. Details are expected to be revealed at a Monday morning news conference.
Gould talked with WLWT last week about what he wants to do, saying the reason the last recreational marijuana plan failed is because supporters wanted more freedom to grow their own pot, as well as more options about who they could buy it from.
"Nobody's going to be guaranteed a spot. It'll be a free-market system for adults, 21 and over. Period," Gould said.
He said he has raised, invested and spent more than $28 million on legalizing marijuana in the Buckeye State. Gould insists that his plan – this time around – will meet with voter approval.
But it's a long trip from proposal to passage.
The language of the amendment will have to be approved by the secretary of state, and supporters will have to gather thousands of petitions.
Amy Wolfinbarger supports a new ballot initiative after the failture of Issue 3 in 2015. Wolfinbarger is the executive director for the Miami Valley Chapter of NORML, the National Organization for the Reform of Marijuana Laws.
"I think that if the people write the bill and the language is acceptable and it's voted into law that the market will be more free and it will be more open to Ohioans as far as jobs economically and the ability to open business," Wolfinbarger said.
"My assumption with them using the term free market this time is they're telling Ohioans that we are not going to propose a monopoly. We are not going to have limited grow sites where we choose who the cultivators are."
Wolfinbarger uses cannabis twice a day to treat chronic back pain. She said more Ohio voters are comfortable with marijuana use and 2018 is a great time to approve a free market proposal.
"I have noticed a huge change in just my community alone where if you said the word, marijuana, people were scared. Now I can walk into a little small town cafe on a Tuesday morning and that's the discussion at the counter," Wolfinbarger said.
Additional details on Gould's proposed amendment are expected to come to light during an 11 a.m. Monday news conference.